Technical further development/ modernisation of the already discontinued series.
Better future spare parts supply through the use of current components.
Increase in precision and quality. Productivity, availability and output.
Fulfilment of legal requirements (e.g. occupational safety incl. CE marking).
Integration into Industry 4.0.
Connection of automation and robotics possible.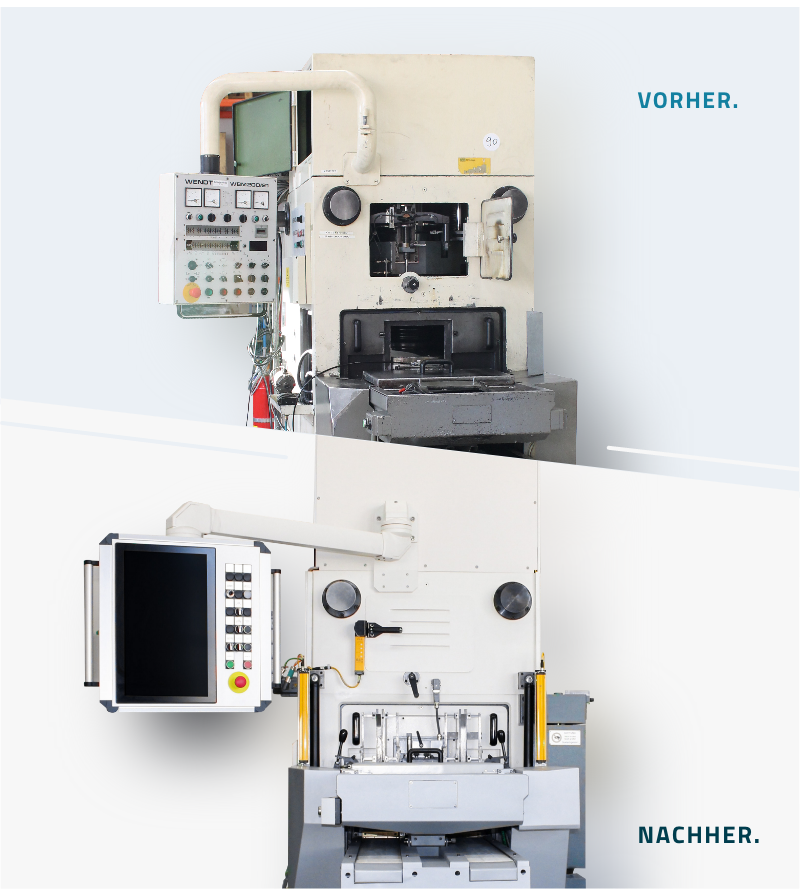 DOES RETROFITTING DIFFER FROM A NEW PURCHASE?
Much lower in cost (up to 60%). 
Installed machine bed remains in place. 
Particularly sustainable.
Boost to productivity and output.
Improved reliability.
Less training work involved.
Possible retrofit measures
The following assemblies are exchanged and work is carried out:
Control: Siemens Sinumerik 840Dsl; Sinumerik One
Peripherals: Siemens Simatic S7-1500; ET200 MP; ET200SP (scalable, modular, and highly flexible).
Circuit diagram: Creation on CAD EPLAN P8
Rewiring
Control cabinet from Rittal Replacement of sensors and actuators
New installation
The following measures are implemented for a modern operating concept:
Large touch screen
Open IPC concept with optimal diagnostic possibilities
Siemens industrial PC
Implementation in Siemens TIA Portal
Control panel incl. monitoring system
Advanced HMI software (panel or PC based).
 
Optional: Mobile Panels
To be renewed:
Bearing of grinding and dressing spindles/ dressing unit.
Gear wheels
Hydraulics (pump; piping/hoses)
Linear guides
Trapezoidal thread spindle
Directional valves
Pressure valves
Cylinders
Lubrication: power unit; pump; distributor; central lubrication.
Coaxial valves/ Coaxial valves for coolant
Coolant piping
Exhaust system
Bicolor painting of the machine by means of shock-proof corrosion coating (according to individual customer's request).
We offer the following individual solutions according to the latest guidelines:
Additional light curtains/ light barriers
Electrical (maintenance) door interlocks/ locking devices
Level switches against overflow
Protective fences and grids
Work area lighting
Individual adaptations to loading and unloading systems, e.g. by integrating robot systems from the following
manufacturers: Kuka, Fanuc, ABB, Omron.
Complete automation concept
Control systems
Storage/ magazine loader
Transport storage system
Together with you, we conduct a needs analysis of the scope of the retrofit in advance, as well as the individual planning.
After the retrofit we offer you
Machine installation on site
Running-in of the machine with workpiece
Recommissioning
And even after that, you can rely on us. Our service offer includes:
In-house electronic and mechanical service
Life cycle management
Fast response time
Personal contact persons
Optional 24/7 online shop
25 months warranty on retrofit scope
40,000 immediately available spare parts and assemblies directly from stock
MORE THAN 120 SUCCESSFUL RETROFITTINGS IN 26 YEARS.
WENDT
6 twin spindle plane grinding machines
NAXOS-UNION
Round grinding machine
TBT
Deep drilling machine
BÖHRINGER
Milling machines and lathes
MÄGERLE
10 surface grinding machines
SIELEMANN
Round grinding machine
RAVENSBURGER
Milling machines and lathes
ABA
3 surface grinding machines
KEHREN
Round grinding machine
GILDEMEISTER
Milling machines and lathes
ELB
Surface grinding machine
JUNG
Surface grinding machines, internal cylindrical grinding machines
EX-CELL-O
Machining centre
DÖRRIES
Milling machines and lathes
WALDRICH COBURG
6 guide-track grinding machines
TIBO
Deep drilling machine
SCHARMANN
Machining centre & milling machines and lathes
SCHÜTTE
Milling machines and lathes